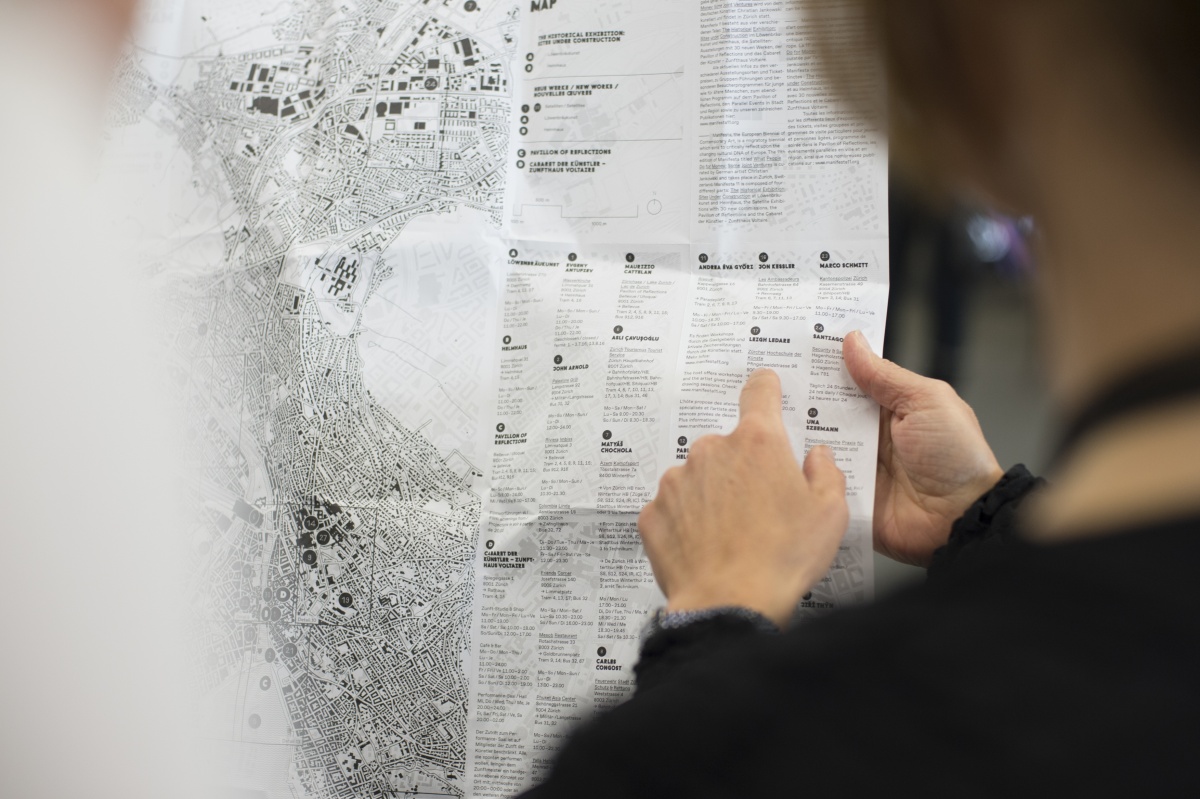 What to visit when, how, where and why!
Thirty international artists collaborated with 30 Zurich professionals. The resulting 30 new works are exhibited at 3 different locations: at the so-called satellites, i.e., the workplaces of the artists' respective hosts; at Löwenbräukunst and Helmhaus, two of the most renowned art exhibition spaces in the city; and at the Pavillon of Reflections where making-of documentaries are screened. In addition, the iconic Cabaret der Künstler – Zunfthaus Voltaire has programmed a range of art performances.
Here are three suggested itineraries with selected highlights for three different time slots. Please note that these are merely suggestions as there are so many events and exhibitions in the context of Manifesta 11 that it is hardly to possible to see everything even in three days.
Manifesta 11 is open every day from 11 a.m. to 8 p.m. Please note the different opening times for satellite locations. Good to know: detailed information on all exhibited works and locations can be found in the Manifesta 11 Guide Book, in the weekly hand-outs (available at Löwenbräukunst and Helmhaus ticket counters).

For starters: Manifesta 11 in 3 hours (12 to 3 p.m.)
The starting point is Löwenbräukunst near Limmatplatz in Zurich West. This is the ideal place to get acquainted with the concept of Manifesta 11 and to see many of the works resulting from the joint ventures between artists and their professional hosts. From August Sander, Andreas Gursky and Harun Farocki to Swiss artists Gianni Motti and Relax, the accompanying historical exhibition of artists from five decades presents extensive examinations of the topic of labour, often with critical overtones that extend to the artists' own works. What becomes apparent is that the social and political forces shaping the working conditions of most people around the world aren't anywhere near the ideal of our seemingly enlightened modernity. The exhibition picks up on this insight in several subsections with loosely associated topics that nevertheless remain open for more personal interpretations.
One of the satellite stations within the complex, a grooming salon for dogs at Grieder Contemporary conceived of by Belgian artist Guillaume Bijl, serves as an example of what the collaborations between artists and hosts at their place of employment might look like. Finish off your Manifesta taster experience with a snack at "schwarzescafé" where there are always interesting people to meet or catalogues to browse.
Hungry for more: Manifesta 11 in an afternoon (3 to 9 p.m.)
The starting point is once more at Löwenbräukunst (see above), after which you move on to other satellite stations such as Hotel Rothaus. Here you can visit a deeply moving project by Mexican artist Teresa Margolles who collaborated with transsexual prostitutes from Switzerland and her native Mexico – the resulting video, by the way, can also be viewed at Löwenbräukunst. Proceed from Langstrasse towards the city where you will find Jon Kessler's work, a mysterious time and imagery machine, in a local watch store steeped in tradition.
Speaking of time and its ticking – time to move on to Niederdorf on the right-hand side of Zurich's old town where Helmhaus, right on the banks of the Limmat, is waiting for visitors. This iconic art institution continues the exhibition presented at Löwenbräukunst. One of the highlights here is Santiago Sierra's work, now transformed into a documentary in the form of various media. Sierra worked together with a local security company at the start of Manifesta 11 to protect Helmhaus from a fictitious war zone outside. Adjacent to Helmhaus is the "Water Church" (Wasserkirche) whose pastor partnered with Evgeny Antufiev for the Russian artist's project. So let's pray – or have a bite to eat, the choice is yours: the Ethiopian Imbissy, a project by US artist John Arnold, serves delicious Ethiopian lunch menus to be enjoyed with a glass of fine mead.
Finally, head over to the Dada-inspired artistic pleasure of Cabaret der Künstler – Zunfthaus Voltaire. This newly created artists' guild is the hottest ticket in town: at first, admission was only granted to eager performers, but in the meantime everyone with an inquisitive mind is allowed to snoop around backstage. Visitors are guaranteed to enjoy the shows at this iconic nightclub which shot to fame because of its pivotal role for the Dada art movement (performances Wed through Sat from 8 to 12 p.m., exhibition daily from 11 a.m. to 7 p.m.).

Alternatively, or to wrap up your tour after Cabaret Voltaire, pay a visit to the Pavillon of Reflections, which is open until midnight, if you want to enjoy some art while going for a swim – or a drink and some snacks (see below for more information).

The full course: Manifesta 11 in a day (11 a.m. to 9 p.m.)
The starting point for this tour is the half-day tour described above (the best option is to book a two-hour guided tour at Löwenbräukunst!), and combined with a visit to the Pavillon of Reflections, this time you get to see the whole city through an artistic lens.
So before you visit Helmhaus, take a detour to the left-hand side of the lake. There you will have several opportunities to visit satellite locations. At the Park Hyatt, for instance, the waiters are dressed in uniform-like costumes designed by German artist Franz Erhard Walther. In Wollishofen you will find the boatmaker who hosted Jorinde Voigt for her project (reopening on 15 August after the summer break) – a unique chance to look over the shoulders of a boatmaker at work in his studio!
Having completed your visit to the so-called Sniffle Coast, it's time to discover the other side of the lake and head to Zürichberg. Take the cable car up to the historic main building of ETH, Marguerite Humeau's professional host. During your visit of its Autonomous Systems Lab you will learn about the behaviour of robots in love (please note the special opening times!). The renowned University of Zurich is located right next door. Here you can listen to Ceal Floyer's acoustic work before taking a break to enjoy the fabulous view over the city. From here, the route goes on to Hirslanden Clinic and the much discussed work by French writer and artist Michel Houellebecq, parts of which are also on display at Helmhaus. If you want to discover Jennifer Tee's work at Enzenbühl Cemetery, you will have to ride on for a few more stops – if only to realise that there is an end to everything.
The reward for your tenacity awaits you in the Pavillon of Reflections. Manifesta 11's floating platform is a reference to the tradition of Zurich's lakeside public baths. You can go for a swim, stock up on drinks and snacks and watch some more art – the development of all the collaborations between artists and professionals in the form of our "Joint Ventures" was documented on film and is shown here. Art has never been as relaxed and enjoyable as this – a great opportunity for all night owls. The films offer unique insights into artist studios in New York, Skype calls from an art detective's bedroom and the detailed negotiations on Surrealism with the local police force. The Pavillon of Reflections is open until midnight (except Wednesday); the films are being shown from 11 a.m. to 11 p.m.

For further details about public transport, please visit www.zvv.ch (One- and three-day tickets include public transport)

For information about ticket prices, please visit here.