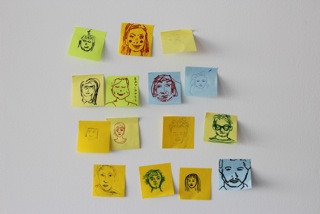 A farewell blog post could be the occasion to write a whole thesis made up of thousands of anecdotes about surprises, disappointments, tears, excitements and stagnations. Here are some of the highlights experienced by the art mediators who led more than 500 groups through the venues and satellites of Manifesta 11.
At an open tour, for example, a woman came up to Sandra, our talented comic-strip artist and mediator, saying, "To understand the artwork is one thing, but to get the connection between the artist and the host is something else..." Hum, yes, indeed. The resonance of a connection between the artist and his or her professional host, or even the echo of their collaboration itself, was not always obvious. As I experienced it, this was one of the obstacles for the audiences and for us mediators, so we tried our best to make this collaboration as explicit as possible. That's why I personally focused on this aspect of the works I introduced, which presented a strong and visible collaborative dimension or a much more hidden one. It was the only way to discuss the issues encountered by an artist working under the constraints of a very specific concept. What are the possible consequences of this unique concept on the whole process of creation and, ultimately, on its result? What does the piece tell us about the artist, what does it tell us about the host and, more essentially, what does it tell us about their cooperation?
Thinking of an anecdote from her tours, our yoga performer and mediator Karen evokes the improvised intervention by Christian Jankowski who talked about his exchange with the artist Udo Lindenberg. This unexpected anecdote certainly helped her audience feel more connected with the overall concept of Manifesta 11. And if not that, at least it will have changed for some minutes the general dynamic of the group and invite the chief curator to participate in the discussion.
Philipp, our dynamic journalist and mediator, wants to remind us of how many different things one can read into one individual work of art. And of all the interpretations one can arrive at, there is only one kind that is really worth exploring within a tour: the one we would never have thought about, because it definitely opens up a completely new perspective for each of us. There are no facts when it comes to contemporary art; there is only a puzzle of approaches and out-of-the-blue revelations.
Anyway, there is no time to go through intense reflections – this was more the aim of the Pavillon of REFLECTIONS (yes, three-and-a-half months of Manifesta cannot even alter my great sense of humour). As a last witness to the biennial of contemporary art, this wooden castle will be reused by Zurich Film Festival to screen films such as La La Land, a musical featuring Ryan Gosling (oh man, he can even sing). Meanwhile, the other components of the exhibition are slowly replaced by ghostly memories. But, oh, what do I see? This is an email from Rayelle, and our precious storyteller and mediator wants to whisper a last poem into my ear – a poem that I will share with you as my farewell melody:
All of a sudden, the very elegantly dressed little woman with bright reddish tinted hair was throwing her arms, covered with a deep orange fabric, into the air. She lifted her gaze to the ceiling and almost screamed: Why did the artist do nothing to inhabit this space? Why? We would need to see millions of butterflies flying above our heads.
Butterflies as the symbol of eternity, butterflies dancing around the thousands of flowers in the Eternal Garden. Although Manifesta 11 cannot be eternal, if you look around you can still catch a glimpse of a naked body drawn on the wall, of a laughing Pavarotti, of an amoniac smelling sculpture, the memory of grateful visitors applauding the mediators – as butterflies these sensual impressions will continuously inhabit our memories. And yes, now you can burst into tears. Bye.
Project: